Hey!
Long time lurker, finally decided to post a build thread up here!
I'm originally from Birmingham UK but I recently emigrated to North Carolina in the US. I'm pretty new to everything here, but one thing became clear instantly...you need a car.
I always wanted an S14, pretty much since I was 5 years old. Drifting has been big since the early 2000's here in the UK, and I think I always had some level of awareness of it. I test drove a bunch a few years ago when I still lived in the UK but I never sacked up and bought one. I opted to buy an EP3 Type R (civic) which seemed sensible and I babied it for 2 years. Whilst I loved it, I still wanted my s14.
Anyway, fast forward to now, Im living in the US and had some money to buy a car to get me from A to B and to start scratching the RWD itch that i've had for years. Here's the shitty thing...240sx's are really really easy to pick up in the UK. I'm used to paying $5000 for a 350hp SR Kouki. They're just so readily available and all came stock with the SR.
Anyway, after passing my driving test over here, I searched craigslist high and low for weeks until I found an S14 that was perfect for what I wanted. It was a 95 zenki, which whilst I wasn't a huge fan of the Zenki front-end, was a huge plus as it it's emissions exempt here in NC, which makes the Sr20 swap a possibility. Furthermore it had a rebuilt, forged SR20 and rebuilt transmission that had been installed by the current owner, a mechanic for a nissan dealership. The owner was cool enough to send me some photos across of the rebuild, aswell as some background info on the Car's history. I did a Carfax report and found that the car had been serviced by Nissan for it's entire life, never had an accident and had always been serviced regularly.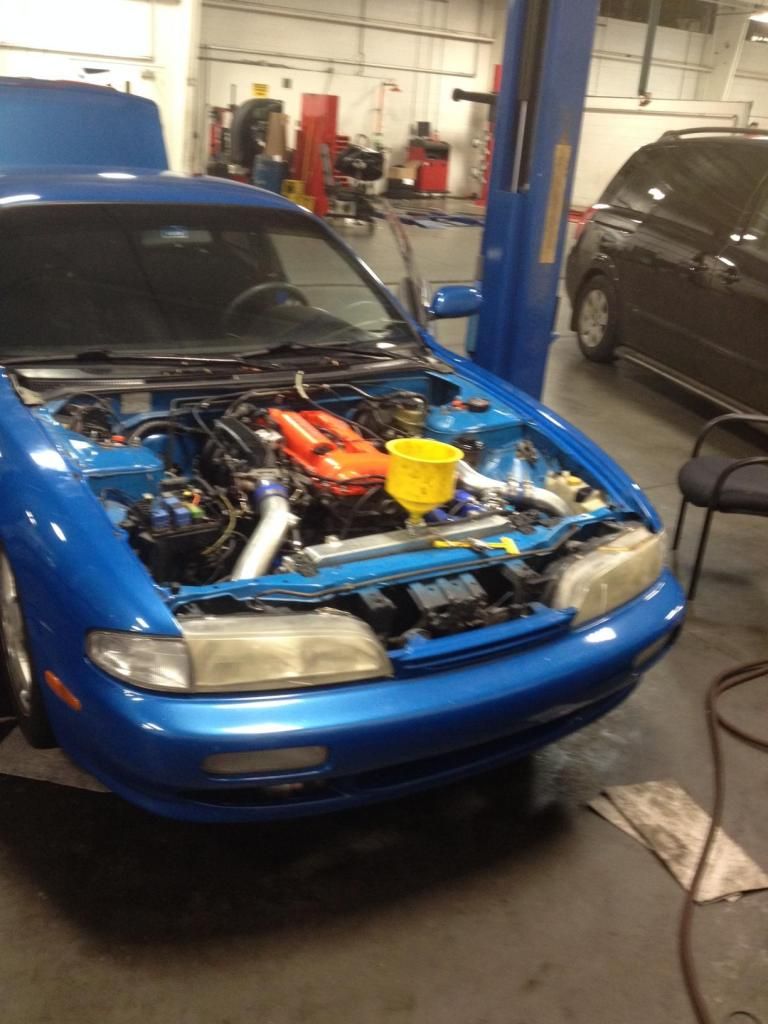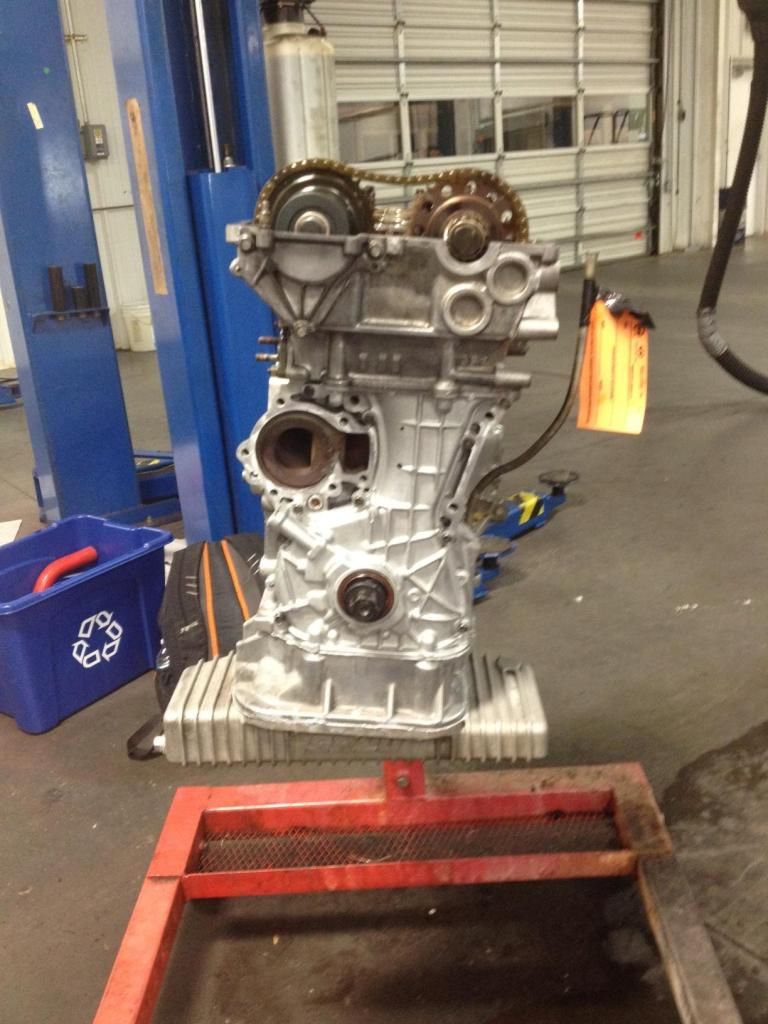 The original KA24 had been long gone by the time the previous owner got the car, and unfortunately the SR that was in it when he first had the car self detonated due to running too much boost. This had prompted him to get a new engine. The shell itself had 225k miles on it (I know) but the engine only had 4k miles, so essentially it had been ran in and was like new. I don't have the spec's to hand (I'll post them tomorrow) but it had had alot of work done on it, I mean, everything mechanically was new. The suspension and everything along with that had been overhauled. The SR is running 7.5psi of boost, it has all the supporting mods required to push for 300hp minus the Z32 MAF and 550cc Injectors. Exactly what I was looking for.
So with that, I hopped on the Amtrak (train) to Charlotte (a city about 200 miles from where I live) to check the car out. This alone was pretty terrifying for me, I hadn't wandered much further than the nearest Walmart away from work and where I lived, so taking the plunge into travelling 200 miles away less than 1 month into my time in the US was a huge step.
When I got there, I met the owner and he seemed like a really cool guy, a far cry from the murderer I expected. I gave the car a good once over, but I had one stipulation..the car needed to be checked out by a Nissan dealership. I just don't know enough about the platform to scrutinize it properly, so I figured they'd be the best people to do that. We took it to a dealership there and they had a tech that specialised in the Z/GTR platforms, who also had owned 10+ 240sx's in his life. He took a good look at the car and then talked me through the issues. He didn't really check out things like lights etc, it was more the chassis and engine. His exact words were 'finally, a 240sx that has been done RIGHT.' Typically (here) people throw the S13 engines into the S14's, weld the diff and then go, whereas this S14 had the S14 SR, a Garret GT2871 turbo and the S14 VLSD to boot. The car was rust free and the paint was immaculate, and as a bonus a Nissan factory colour (Monterey Blue). He noticed that one of the bolts in the rocker cover had snapped off (bummer) and that there was *some* slight seepage from some of the gaskets, but nothing out of the ordinary. When I asked him if he would buy it, he said 'If you don't..I will'.
Anyway, long story short, I went through the painful process of getting the forms signed, the title notorized and the money across to the owner, and boom! The car was mine. I wish I could say that I jumped in it and drove the 200 miles home..but I didn't. See, when you're starting from scratch in a new country..nothing is easy. You can't use your UK license card or a temporary US license to register a Car. As a result I had to rent a Uhaul truck to trailer the car home (makes sense..huh?) which ended up being an ordeal in itself but that's a different story.
So, once I got back to my place, I unloaded the car, and there she sat until my license turned up..that week was agony..driving a shitty Chevvy rental car until I could take the car to get it registered. That's where the real pain started...the car was registered..but now it needed to be inspected.
I took the car to the nearest state inspector on my temporary plate which expired in 2 days. They promptly failed my visual inspection based on my tints and the lack of an EGR valve...which sucked. To make things worse, in NC, once you fail, you're put into a system that forces you to return to the same garage for your re-test. So, I had 2 stressful days to fix the issue, in order to make good on the failure and get the car on the road. This involved having the tints removed ($100) and having a local specialist salvage an EGR from a KA engine, in order to connect it up like so: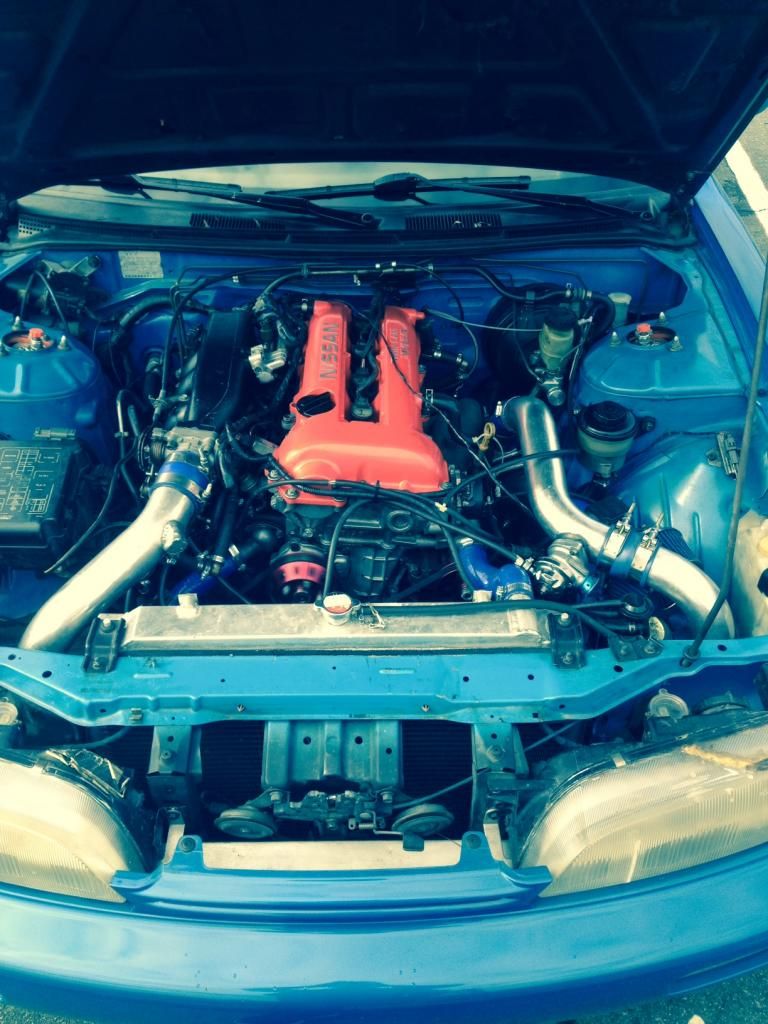 I can't stress how stressful getting this fixed against the clock was..if it wasn't for my colleague and fellow 240 owner Kerry ferrying me around to get it sorted and calling in some favours..it probably wouldn't have come off. His is the white 240 in the back:
So yeah..the car is legal, on the road, registered and paid for. I can't tell you guys how happy I am with it. The butt dyno tells me it's around 250-260 hp, it spins up real nice. The suspension set up means that it hooks up great (in the dry), the engine sounds glorious and the gears shift great.
Time to start fixing it up!
The issues I have found so far:
Carpet is super shabby - Will be replaced with a fitted Red carpet.
Clutch is low (I have bought new master and slave cylinders)
Belts sequel like CRAZY (these should be arriving on monday)
Oil is still semi-synth from the run-in, so I'll be doing a change to fully synthetic this coming week.
Wheels and tyres are fubar. The tyres are sooo shitty that getting traction in a straight line is a challenge. I've now ordered replacements.
The Bonnet is dented and looks shit in black.
The short shifter throw is wayyy too short
The steering wheel is grim
The doorskins are shabby, the driver's side one has a hole
The seats are grim, will be replaced with red Acura RSX (DC5) Recaro's
There's no cigarette lighter - I've got a replacement, I just need to wire it in
Fan's are currently connected to a switch in the cabin, I'm scared i'm going to forget to turn these on, so I think I'll pick up a clutch-fan asap.
I think there are some electrical issues, the wiring is alittle funky in places, I will be tidying that up asap. The battery died on me last week, it was brand new which confuses me. Potentially I'll need a new Alternator if the circuits check out.
Headlights are yellowed..badly - I've picked up some clear len's, I'll be fixing those asap.
Climate controls don't work correctly
So yeah..lot's to do before I even think about mods. The main concern for me atm is the Tyres, they're downright dangerous atm, and causing the car to understeer like crazy. I pulled the trigger and decided to get some new wheels and tyres right away.
Myself and a friend spitballed with some photoshop ideas for wheel setups:
I have always loved Grids (I also had them on my Civic) so I ordered some 18x9.5 Rota Grid's in Gunmetal Grey over the weekend, with Goodyear F1's in 225/40(F) and 235/40 (R). I'll be rolling the arches when they turn up, hopefully they fit!
Anyway, enough of my rambling. More soon!