ISOxSWD Japan Disaster Relief Meet/Drift Competition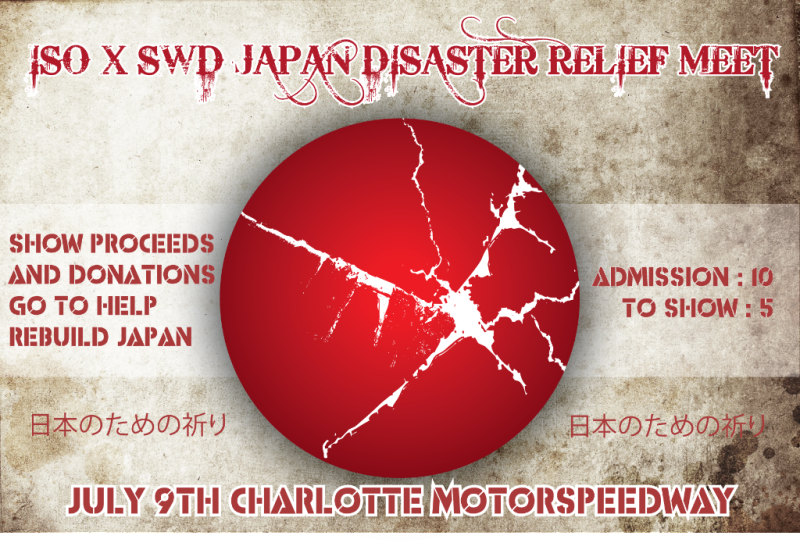 Insane Stance and Offset will launch our first meet of 2011, in collaboration with Street Wise Drift, to Honor and Pay back homage to Japan. Street Wise Drift will also be hosting their Formula D East Coast Pro Am Round 3 event event as well. What's a better event than going to a meet to support a good cause and watch some live drifting?
General Admission is $10
Showing your ride: $5 (which will be donated to Red Cross)
***SWD: Formula D Pro AM East Coast Round 3***
***G.A.C.S Round 4***
-ISO Support Japan T-Shirts will be available for $20 (all funds raised will go to Red Cross)
-Live DJ's Spinning on the 1s n 2s
-Also any Vendors who would like to set up a booth please email
InsaneStanceAndOffset@gmail.com
for more information. Thanks
-Any car clubs that would like certain parking arrangement please contact me ASAP!
Special thanks to our Sponsors
-Exotics-inc.
-Phantasm Motorsports
-D2 Racing
-TheWheelTour.com
-Eurowise
-B.R.E.
-NOS energy drink
-Blueridge motorsports
-CIN
-13th 3 Motorsports
- ASD
-OMGDRIFT.com
-Omega Graphics
- O&J performance
- DRIFTED
Facebook Event Link:
Login | Facebook