SOLD!!!!!!!!!!!!!!!!
Rays Forged 19"

Super-Light Weight Forged Aluminum Alloy
Front
Size: 19x8.0
Offset: +30mm
Weight: 19 lbs
Tire: 225/40-19

Rear
Size: 19x8.5
Offset: +33mm
Weight: 21 lbs
Tire: 245/40-19
Hey guys I want to trade my rims for a set of 35th anniversary 350z rims with tires.
Since my main rim set up is going to be 18's it makes it easier to keep just the same size spare tires around than 2 different ones.
Here is a pic of what it looks like on my Cefiro from the other night:
So all I'm looking for is a trade plus some cash depending on the condition of your tires.
What you are getting on my end:
4 19' rays
2 225/40/19 Potena tires front with 60%
2 245/40/19 Potenz tires rear with about 50%
2 235/35/19 toyo Proxes4 with about 95%
1 255/35/19 G-force TA with about 80%
The rims aren't perfect, they have curb rash from previous owner and they are dirty in the pictures I took tonight but they have been solid in the few months I've had them.
Now for the pictures:
Front 19 X 8:
Other one:
19 x 8.5:
Other one:
Ties:
235/35/29:
255/35/19:
And just to clarify the rims are still on my car so I will need you to meet me to swap which I can do or if your rims are off your car I can put my car on jack stands and arrange a quick pick up.
Also these are the rims I'm looking to trade for: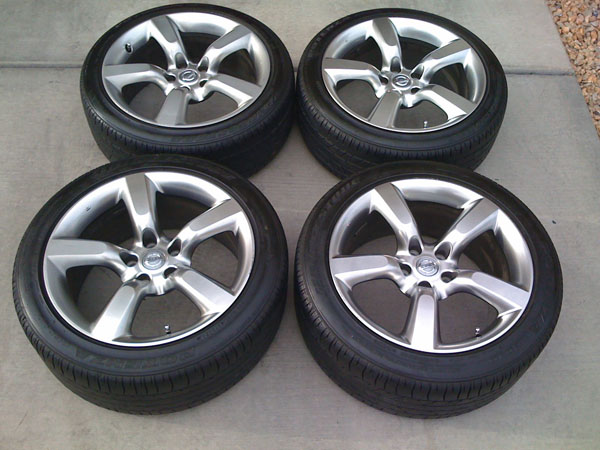 Please feel free to contact me here or through my cell.
Text is the best, please include that you are from Zilvia.
And if your looking to buy out right Lets say $900 OBO to start
I think that would be enough to get a set or rims with good tires
Jeremy
Located in San Gabriel, CA 91776