Time has come to part ways with my S14 that I have owned since 2007. The car speaks for itself, you will be hardpressed to find an S-Chassis in the area that can contest with this S14 on most forms of motorsport, even street driving.
As you can tell ALOT of blood, sweat, and gypsy tears have gone into this build.
I am willing to sell the car as it sits, minus a few parts..or have a straight up trade, if the trade is not equal im looking for your car + cash on your end.
I have 95% of ALL invoices and receipts for this car. I am also in good standing with all of the major Nissan Tuning Shops in the area, and im sure they can vouch for me.
The car can be road raced, drifted, auto-x'd, or even daily driven if you want. Its really up to you. I originally set up the car for Redline Street RWD class, but by the time the car was ready, Redline backed out from the Midwest. The car can be VERY competitive in any class you enter it in, its just a matter of how much boost you want to run, and what tire compound you choose.
1995 Nissan 240SX SE
Alabama car with documents to prove it. No rust.
170k on the chassis
500 MILES ON THE MOTOR/TURBO SETUP...very fresh.
Power windows, Power Locks, Power Mirrors, Power Steering
Sunroof was deleted w/ a One-Off delete panel (Very EXPENSIVE piece)
Garage stored all year round.
Pavels Racing Engines sourced a great conditioned head, port matched, cleaned, machined, and assembled my shortblock.
TF-Works, had the head COPPER O-ringed, and installed everything from there, including the turbo kit.
Engine:
KA24DE 16 Valve DOHC
Wiseco 9:1 Forged Pistons bored .040 over
Eagle Rods
All new Bottom end Bearings
ARP Main Studs
ARP Rod Bolts
ARP Headstuds
Cometic Headgasket
OEM Timing Chain Kit
OEM Front Oil Cover with Oil Pump
OEM FULL Gasket Kit
Complete S13 Head/Cams (port matched) (240/248 Cams)
S13 Valve Cover
-Modded, removed and replaced internal baffling
-CMWerks powdercoated
-Modded by TF-Works for a Custom Oil Catch Can Kit
- (-10an) Earls fittings and SS Lines
- Triple Baffled Custom Catch Can w/ breather, and drain.
S14 Intake Manifold
-cleaned
-painted
AMSOil 10w/40
Oil Cooling:
Greddy Sandwich Plate w/ 1/8th gauge port
-10 Fittings and SS Lines
-Setrab Series 6/ 16row Oil Cooler
-Custom TF-Works Oil Cooler Mount
Xcessive SR Oil Pan Adapter
Moroso Aluminum Baffled SR Oil Pan
Turbo Kit:
SR Style Turbo Manifold
Garrett GT2871r .86
-wastegate was professionally ported out by TF-Works
-Stainless Steel Water lines and Oil Lines/Fittings
Stance GT Turbo Reclocking Kit
Custom TF-Works Intake
S13 SR Intercooler Kit
HKS SSQV BOV w/ Recirculation Kit
Upgraded Turbine Outlet
3 Inch Downpipe w/ Flex Section
3 Inch Mild Steel Custom Exhaust (looks like a straight pipe)
Vibrant Race Muffler (welded in-line)
Vibrant Super Quiet Resonator (welded in-line)
Z32 MAF
Fuel:
Nismo 740CC Injectors
-OEM Upper and Lower Injector O-rings
Walbro 255 Pump
Z32 Fuel Filter
93 Octane
Igntition:
NGK BKR7E Plugs
Magnecore 10mm R-100 Race Wires
OEM Distributor Cap/Rotor
Cooling:
Koyo Aluminum Radiator
Silicone Radiator Hoses
Water Overflow/Swirl Tank
Drivetrain:
S13 Transmission
-No Speed Sensor
Nismo Pivot Ball
OEM Slave Cylinder
Competition Clutch Stage 4
Resurfaced OEM Flywheel
Driveshaft Shop 1piece Steel Driveshaft
S15 Spec R HLSD w/ output Shafts
AVID Solid Motor Mounts
Peak Performance Race Transmission Mount
Redline MT-90 Fluid - Transmission
Royal Purple 75/140 - Differential
Brakes:
Z32 Calipers
Carbone Lorraine RC5+ pads (fronts)
SP Slotted/Vented Rotors
OEM rear Calipers
Hawk HP+ Pads
SS Lines all around
Z32 17/16th BMC
Motul RBF-600 Brake Fluid
Suspension:
Corner Balanced and Aligned at TF-Works (Custom Specs)
STANCE GR+ (9/7k) will also include 8/6k springs
Peak Performance Front Tension Rods
Peak Performance Outer Tie Rods
C.Sports Inner Tie Rods
C.Sports RUCA
C.Sports Rear Toe Rods
STANCE Rear Subframe Bushing Collar Inserts
OEM SE Rear Sway Bar
Whiteline Front Sway Bar
Whiteline Adjustable Sway Bar Endlinks
Wheel:
Enkei RPF1
17x9.5 +18
17x10 +18
NO TIRES.
Exterior:
Version Select VS.1 Front Bumper
Origin Front 20mm Over Fenders
Origin Rear Type II 50mm Over Fenders
Origin Side Skirts
Seibon Carbon Fiber Hood
Aero-catch Locking Hood Pins (one is broken, both still work)
I also have Ganador Style Mirrors that I can throw in
Interior:
S13 Passenger Seat
NO Drivers Seat
Buddy Club Side mount Drivers Seat Rails
NRG Short Hub
NRG 2.5 Quick Release
NRG D-Style Steering Wheel
Nismo Dildo Shift Knob)
Short Shifter
New Shifter Cover
Rear Half of interior is gutted out, I have ALL OF THE interior pieces, and will include them in the sale. Including panels, rear seats, seat belts, ect
Electronics:
Shuriken Ultra Slim Race Battery
NGK AFX Powerdex Wideband
STRi Water Temp
STRi Oil Temp
STRi Oil Pressure
STRi Boost Pressure
Alarm w/ Keyless Entry
NIStune Custom ECU Tune
Tuned by Mr. Armando Nanalig at iLL Garage
The car is very fast and responsive. The whole setup revolves around how well you can modulate the throttle. Low Boost tune 12psi (close to 300whp/300ftlbs tq on a VERY CONSERVATIVE low boost tune). High Boost should bring close to 400/400 to the wheels.
There are a few things that are not installed on the car:
Rear Z32 Brake Setup (Calipers, Lines, Hawk Blue Pads)
Rear Half Of interior
Rear Diffuser
Ganador Mirrors
Front SE Sway Bar
OEM BMC
and a whole bunch of other OEM stuff that I kept over the years. I will include all of it in the sale!!!
There are also a few things that the car needs:
-PAINT JOB..its literally a paintjob away from being a masterpiece haha..figure you can paint it any color that you would like, I would keep it RED!
-The passenger door needs to be re-hung, it rubs against the sideskirt
-Interior door panels have a few cracks in them (common)
-a few little things here and there, nothing major. Small maintenance.
-tires
Also forgot to add:
New OEM Alternator
New Drivers Side Window Motor
New Drivers Side Window Regulator
High Pressure Stainless Steel Braided Power Steering Line
Corner Balance/Alignment @ TF-Works
Did I mention the car was light?
Dyno Tuning @ iLL Garage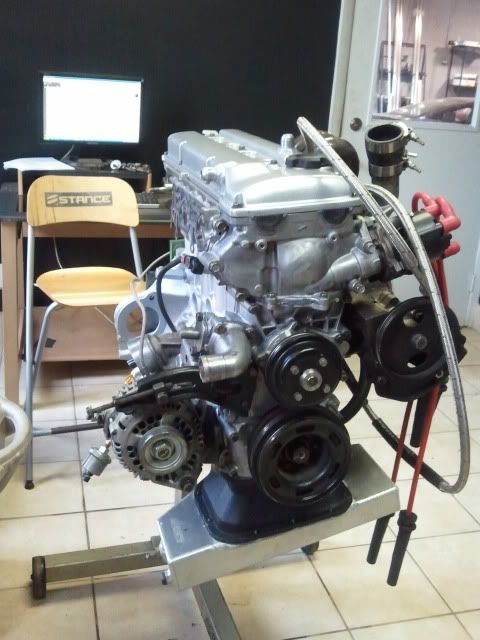 I found that this was the most ergonomical gauge setup. No need to keep your eyes off the road.
i'm asking $10,500 OBO
Im also willing to trade as i mentioned earlier. Straight up, or your car + cash on your end. Entertain me.
Cars I would be interested in: Z33, S2K, E36 M3/E46 M3, ect ect
Cash talks. Serious inquiries ONLY. I can take off parts if needed to lower the price, thats no problem. Car is located in the Chicagoland Area.
Contact me for more info:
[email protected]
or text/call 630.306.1125 ask for Alex.