White 1992 Nissan 240SX Convertible
142000mi
Clean title
No motor or trans
Located in Murfreesboro Tennessee
I have a 1992 240SX Convertible shell for sale. I bought it in New York to have as a project car to work on. I eventually found a 280Z that will make a much better project. So I need to get rid of the convertible to free up some space.
The body is straight overall. It has 142000 miles on the chassis. No motor or transmission. There are holes due to rust in the wheel wells,rocker panels and floor pan under the rear of the driver's seat. Detailed pics of rust will be provided upon request. The interior of the vehicle is probably 4/10. It has the leather seats from a SE model. When I got the car it had a blown motor and transmission still in the vehicle. I removed them for scrap but I kept the power steering pump, alternator, intake manifold and valve cover. The car has a set of 17" XXR wheels, Silvia trunk lock, ebay crystal tails, a set of hids with ebay housings, Megan lowering springs with shocks of unknown brand, and unknown brand header as well. The top is in great shape, except for 4 small spots that have been sealed with stormshure. The spots are about 1/4" in size and are located above the release handles for the top.
The car has a clean title. The car needs a lot of rust repair. It is definitely a project. I didn't pay too much for it, and I swapped a couple parts out to be used on my S13 hatch, and I removed the AC for myself. So I'm just trying to make a little money back.
The only parts I have bought for the car is a new OEM fuel fill door and trunk release cable, new trunk struts and a used set of locks. I have already swapped out all the exterior locks. All that is left is the glove box lock and ignition switch.
Thanks for looking. Below are links to my photobucket album and the craiglist ad.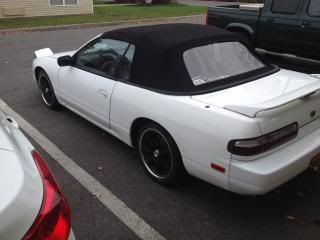 http://s161.photobucket.com/user/kyl...ry/Vert%20Rust
http://nashville.craigslist.org/cto/4598571329.html