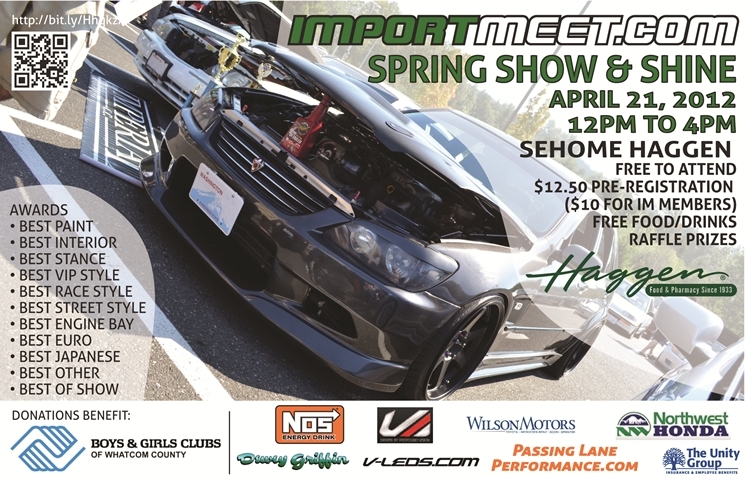 Once again,
ImportMeet.com
is teaming up with NOS Energy Drink and Haggen Food and Pharmacy to hold an import car show & shine on April 21st 2012. The
show will be from 12pm - 4pm at the Sehome Village Haggen in Bellingham, WA. All food and raffle donations will go directly to the Boys and Girls Clubs of Whatcom County.
Please note that this car show is open to all makes and models but the primary focus is on import cars
Location:
Sehome Village Haggen
210 36th St
Bellingham, WA 98225
Time:
10am – 11:30am (Parking and registration for the show)
12pm – 4pm (Spring Show & Shine)
Please do not arrive before 10am as we will still be preparing for the event. Parking and registration starts at 10am.
There are currently 75 spots available for show and shine participants.
It costs $10 for ImportMeet.com members to secure a spot in the show. If you're not a member, be sure to register

on the site before pre-registering for the show to save $2.50.
Please use the form at the bottom of
this page
to save your spot at the show & shine. Various prizes will be raffled off during the event and the money received will be donated to the Boys
and Girls Clubs of Whatcom County.
FREE hamburgers and hot dogs will be provided and a representative from NOS Energy Drink will be handing out FREE drinks to people in attendance. We will also have a DJ playing music during
the event. Here is a current list of the awards:
Best Paint
Best Interior
Best Engine Bay
Best Stance
Best VIP Style
Best Street Style
Best Race Style
Best Japanese
Best Euro
Best Other
Best of Show
Since this is a show & shine, there will
not
be awards for each make.
We held an End of Summer Car Show here last year and it was a success. Here's a link to last year's show coverage:
http://www.importmeet.com/blog/2011/...bellingham-wa/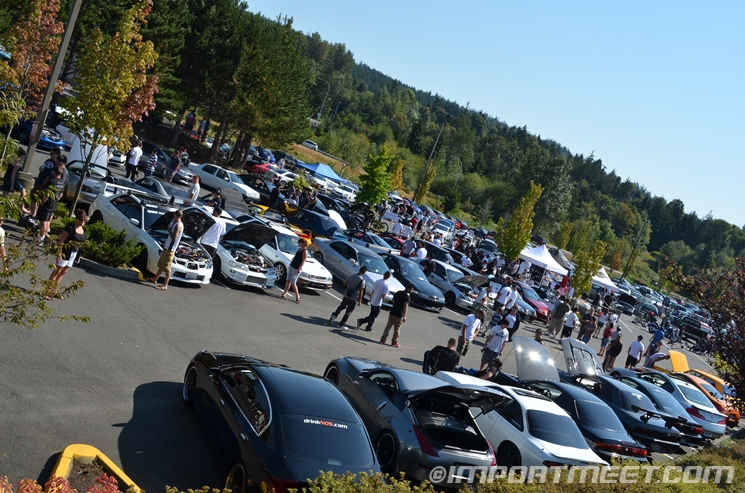 Register for the ImportMeet.com Spring Show & Shine here:

Facebook event page:
http://www.facebook.com/events/193263737453483/
"Like" ImportMeet.com:
http://www.facebook.com/importmeet
Thank you. We look forward to seeing you there!
Sponsors:
Haggen Food & Pharmacy