» Zilvia.net | The Original Nissan 240SX (Silvia) and Z (Fairlady) Car Community Forums
The Original Nissan 240SX (Silvia) and Z (Fairlady) Car Community Forums

Here you will find dedicated and knowledgeable Nissan Owners, Member Rides, Photo Galleries, Blogs, Technical Articles, Marketplace, Group Buys, Reviews, Installs, Drifting, and Links.

We are collaborative group dedicated to all S13, S14, S15, Z32, Z33, Z34 chassis sport cars, Nissan's greatest.
» Recent Threads
Title, Username, & Date
Replies
Views
the ban of the...

34

1,141

The coolest s-chassis on...

74

4,534

s14 5spd swap wiring...

0

1

Zenki's Unite

38,402

3,700,194

Crank pulley without...

3

11

sr20det dirty oil

3

93

The "Identify this"...

12,497

1,213,126
» Advertise Specials
KYB Shocks Flash Sale - Ends August 3, 2014
Jul 28, 2014 - 4:14 PM - by GuerillaRacing
For a limited time only, we are going to do some great deals on

KYB Shocks

for all models (and whatever other vehicle you might need new shocks for!)

Products Available:

KYB EXCEL-G Shocks
KYB AGX Shocks (adjustable)

Replacing your old shocks on your car will make

... [Read More]
0 Replies | 53 Views
Enjuku Racing - Tomei EXPREME Turbo Manifolds RB26DETT - ** READY TO SHIP **
Jul 28, 2014 - 1:38 PM - by Enjuku Racing
Tomei EXPREME Turbo Manifolds RB26DETT - ** READY TO SHIP **
http://www.enjukuracing.com/products...-rb26dett.html
... [Read More]
0 Replies | 51 Views
Enjuku Racing - Tomei Head Gaskets - ** ON the Shelf **
Jul 28, 2014 - 1:34 PM - by Enjuku Racing
Tomei Head Gaskets - ** ON the Shelf **
http://www.enjukuracing.com/products...eadgasket.html
... [Read More]
0 Replies | 73 Views
Wiring Specialties Iphone 5 and Android Charging Cables
Jul 28, 2014 - 1:31 PM - by wiring specialties
Finally back in stock and available on our website is our IPhone 5 and Android USB charging cables. Wrapped in nylon loom and shrink tubing on both ends to prevent connector separation, these will last much longer and take more abuse than your original phone cable. These have sold out so fast at past events this year that it's been hard to keep them in stock. These are only $15 on our website so order yours today before they're gone again!!!


... [Read More]
6 Replies | 116 Views
@@ Last of the Varrstoen ES8's Get em while they're HOT! On hand ready to ship NOW @@
Jul 28, 2014 - 1:12 PM - by Xtreme Wheel Brokers
That's right this is the last of our stock!!! New Varrstoen ES8 (Work Equip Reps) On hand and ready to ship.

Only a few sets left Hurry before they're gone.

We have the LOWEST PRICES ANYWHERE!!!

5x100 18x9.5+34 (8 left)
5x114.3 18x9.5+12,+22,+30 (4 +12's, 4 +22's and 4 +30's)
5x114.3 18x10.5+15,+22 (4 +15's and 4 +22's)


... [Read More]
0 Replies | 80 Views
JZ to VQ/350z/G35 transmission adapters!!!!
Jul 28, 2014 - 11:59 AM - by george


Introducing the Maverick Motorsports JZ/VQ 6 speed Adapter Kit!

This kit allows you to easily bolt on a stronger, better shifting, and cheaper 350z/370z/g35/g37 6... [Read More]
5 Replies | 124 Views
Dmax Type 3 Silvia S13 Bodykit(Replica)
Jul 26, 2014 - 4:58 PM - by Wolf45
[Read More]
1 Reply | 405 Views
Enjuku Racing - SPEC Stage 3 - RB20/25DET ** Free Shipping **
Jul 25, 2014 - 1:49 PM - by Enjuku Racing
SPEC Stage 3 - RB20/25DET ** Free Shipping **
http://www.enjukuracing.com/products...rb20-rb25.html
... [Read More]
0 Replies | 173 Views
FRSport Deal of the Day: Cusco Rear Upper Camber Control Arms S13 R32 RWD
Jul 25, 2014 - 1:22 PM - by FRSport.com


Deal of the Day: Cusco Rear Upper Camber Control Arms S13 R32 RWD

Just... [Read More]
0 Replies | 182 Views
Ignite the Power Inside of Your Engine with the Ignition Special at FR Sport!
Jul 25, 2014 - 11:51 AM - by FRSport.com


A good ignition system is key to ensure an engine is maximizing the full potential & power of its modifications.
This week let FR Sport help you Ignite the fire inside with ignition upgrades that ensure your upgraded engine
components receive the hotter & more powerful spark they need. Ignition... [Read More]
0 Replies | 528 Views
GKTech - Steering Wheel Spacers - INTRO PRICE
Jul 25, 2014 - 4:26 AM - by GKTECH
Steering Wheel Spacers

The GKTECH CNC machined aluminium steering wheel spacers are available in black or silver and in either 25mm or 50mm height. They suit as standard both 6x70mm PCD and 6x74mm PCD (covers all steering wheels). The idea behind the steering wheel spacers (besides looking great) is to bring the steering wheel closer to you for more control of your car.

NOTE: will ONLY work with aftermarket steering wheels, will NOT... [Read More]
2 Replies | 232 Views
GKTech - Axle Spacers 3x2/5x1/6x1
Jul 25, 2014 - 1:59 AM - by GKTECH
3x2 10mm Axle Spacers (pair)

The GKTECH axle spacers are CNC machined from billet aluminium and are concentric in design to ensure the perfect fit (critical due to the load put through spacers). When running extended LCA's, S14/S15 subframe in an S13 or running bolt on dual caliper brake kits the axle is moved further out and as such is prone to breaking.

Please check under your car before ordering to see if you have 3x2, 5x1 or 6x1... [Read More]
4 Replies | 343 Views
GKTech - SR20/RB20/RB25 5 Speed Transmission Spring Kit
Jul 25, 2014 - 1:29 AM - by GKTECH
SR20/RB20/RB25 5 Speed Transmission Spring Kit

The SR20/RB20/RB25/RB26 5 speed transmission spring kit will bring your gear stick back to life by stiffening up the shifter and increasing overall shifter feel. The kit comes with 2 sets of springs to suit your preference. To install simply remove the 2 bolts from the side of the transmission under the shifter assembly and install with your choice of springs.

Vehicle... [Read More]
0 Replies | 286 Views
Cosmis Racing Wheels - XT-005R, XT-006R, XT-206R, SR5, MRII, MR7 - FREE SHIPPING
Jul 24, 2014 - 7:06 PM - by Sonic Motor
Cosmis Wheels - XT-005R, XT-006R, XT-206R, SR5, MRII, MR7
FREE SHIPPING Continental U.S.
Cosmis XT-005R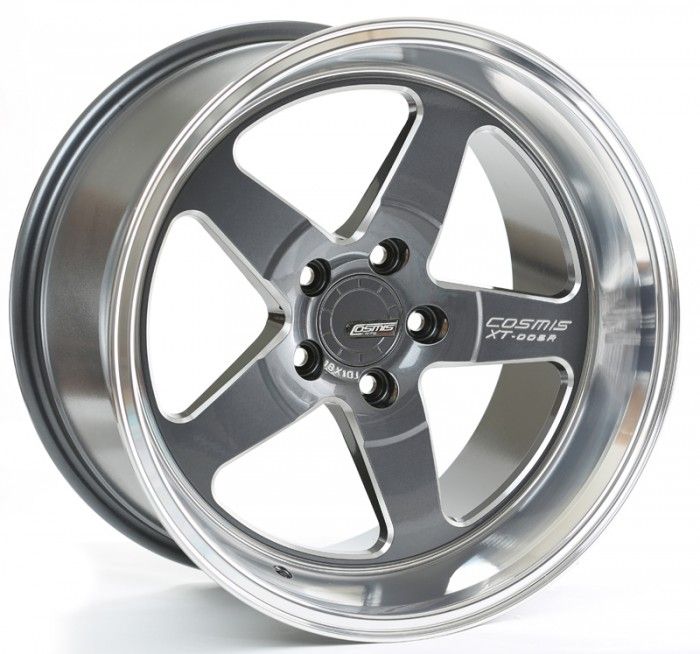 XT-005R 17×9.5 +5mm 5×114.3 Gun Metal
... [Read More]
4 Replies | 343 Views
@@ Now offering wheel repair! Scratch/Curb/Chipped/Dinged/Painted/Powder Coat/BENT @@
Jul 24, 2014 - 1:00 PM - by Xtreme Wheel Brokers
We do any and all types of repairs. Including bent wheels. Even some small cleanup on chrome and stainless steel lips...

Recon work takes about 24-48 hours and we charge $125/wheel.

We can assist in shipping, but it would need to be paid for both ways in advance. Price can vary obviously. Typically $15-$35/wheel each way, and that covers 15"-20"

We can also powder coat your wheel a custom color if you like, price can vary.

... [Read More]
11 Replies | 295 Views
FRSport Deal of the Day: Pauter Billet 4340 Forged Rods KA24DE
Jul 24, 2014 - 12:53 PM - by FRSport.com


FRSport: ... [Read More]
0 Replies | 262 Views
*NOW IN STOCK* Catco 3 Inch High Flow Catalytic Converter
Jul 24, 2014 - 11:47 AM - by Enjuku Racing
*NOW IN STOCK*



Product Description
Catco 3 Inch High Flow Catalytic Converter for Nissan 240sx 89-98. Bolts up to any 3" SR downpipe, or Hot Shot header, and any catback exhaust system. Flows significantly better than stock while still being street legal.

Click here to order ===> ... [Read More]
3 Replies | 325 Views
*NOW IN STOCK* ISIS SHIFT KNOB - 100mm - white/black
Jul 24, 2014 - 7:58 AM - by Enjuku Racing
*NOW IN STOCK*




ISIS Shift Knob - 100mm - Black

Nissan - 10x1.25 Thread Pitch

White - http://www.enjukuracing.com/products...0mm-white.html

Black - ... [Read More]
5 Replies | 390 Views
GKTech - S13/S14 Roll Center Correction Kits
Jul 24, 2014 - 4:05 AM - by GKTECH
S13/180sx 40mm Roll Center Correction Kit - PRE BUY

The GKTECH roll center correction kit is CNC machined from 7075-T6 aluminium and provides 40mm of roll center correction, 40mm of bump steer correction and also re-positions the steering arm to increase steering lock. The roll center correction kit bolts up to the bottom of your standard knuckle and can be removed with no ramifications at all. With the use of our steering rack spacers (non... [Read More]
10 Replies | 512 Views
GKTech - 4/5x114.3 Hub Centric Slip On Spacers
Jul 24, 2014 - 3:51 AM - by GKTECH
4/5x114.3 10mm Hub Centric Slip On Spacers

The GKTECH 10mm slip on spacers allow for adjustment of the fitment of your wheels. The wheel spacers are hub centric to suit Nissans 66.1mm hub and are manufactured to the highest quality in T6061 Aluminium and then hard anodized to further increase the strength

Features:
- CNC machined aluminium T6-6061 construction
- Hub centric to suit 66.1mm Nissan hubs
- 114.3mm PCD with... [Read More]
0 Replies | 328 Views
» Stats
Members: 151,165
Threads: 544,992
Posts: 5,494,418
Top Poster: Phlip (27,405)

Welcome to our newest member, Gabefitz
» Online Users: 1,832
576 members and 1,256 guests
05subysti, 0m3r, 11wrxman, 1987, 1fstvq35, 20 til 3, 240 420, 240.jc, 240couple, 240kaet, 240life, 240ss, 240sxScores, 240sxTyler, 240[ss], 24O, 2plus4plus0eq6, 3bar_dc2, 3v1lk3n, 4banger, 4playracing, 70ina30, 818 ZENKI, 86is300, 88Coupe, 89bucketsx, 90GTpony, 90S13dude, 91240coupe, 92-240sx, 93_ProjectS13, 95 kouki, 96Turbo, aariz82, abaron13, abu, AceInHole, acslater9, adamhanna, adams 02rs, AE_Racer, aformerclarityam, aforrence, Aki180sx, Alan_405, alemuscmk, alexander240, amfh403, andrew600, ANDY black s13, andy21557, AndyC, angel mkiv, AnthonysSilvia, astar630, awesomeHB240sx, badfish21, badP4nda, baked_beans_, Banana_Cute, banshee_rider909, BCHLR240SX, beems240sx, Beerbaron, belac515, benja, Bernie (NoVA), bfarroyo, Bigalow311, bigs, bigyellowevo, BJManies, blackANESE, blackej7, BlackZenkiS14, BLD, BLKonBLK98, blksylv, blkvrtswp, bobalini, Bokeh, BoneSamurau, Boostin_AWD, BoostnS13, BoostTaco, bpat, Bpinoy730, bradlyp, BRAIN_Z33, brian2523, brizanden, broke240, BSPerformance, bubbles210, BUGGA_SHUGGA, Bullett, burgundyandblue, Bushido, bushybeardedtaco, Ca-det-s13, CaliforniaMayhem, CalZenki, Cameron227, CaptainRodKnock, carguy, carmaniac1993, cbeuglas, cbh148, cesar-kouki, Cesar_559, chapin323, Charlie, cheap_sticker05, cheesewizS13, ChemDog, Chris_nuisance, chuki monsta s13, chuki.s13.coupe., chuyi39, civicsi2, Clean98, clutchdropkicker, codunc, Confuzedd, Confuzled, CookiesNCream, Corbic, Coup D E'Tat, coupemen, cpl dozier, crazywoody, crunkride, CtrL, ctsedan, curb bound, DA KAOS, DairyL13, DALAZ_68, DammitBobby, danes, dave123thomas, Dave361, dcase008, dddx880, defcon86nwh, defiantmofo, delado, Devinjay, dirtythirty, DJDANGER24, djnicky240, DJPimpFlex, DJ_Sunrise, dnomyar, DnRod17, DomChan, Donnie21, DoobieS13, dosstat, down_south240, dpacro, dragonfly, Drama, drewmcs13, DRFT180, DrftingMiater, Drifting-pedobear, driftin_sr20det, Drillergy, drivinsideways88, drumnbasslvr, DS DockSide55, DustinSixOh9, dynamiteshovel, e30gangsta, easternrider, edmorl, edwin688, egcg240, ehp, elemens, elixirvtec, eloyn7, emmanuelb110, EnemyS15, EricDET, erm9528, ets13, EvBot DET, evilpanamajack, Evo spec D, evo6666, EVOETR, exitspeed, eyehate, Fable, Falken180, FamilyDrift, fashnootin, FcMURRRDA, fd3sdriver, feist, feito, Felipe, Filipe, firegoose, Fireside, first_choice, fl240sxown, FourtyKid, franksterz, FRhatch, frmdabak187, Frs239, fukusdm01, furiousbob, FusionR240sx, G35nubluber, Gabefitz, GabeS14, gallimore2659, gangster240, gap450r, GavoS14, ghostdrifter56, ghoti, GluedMyNuts, goad_white03, golf, Gotjuice93, Grocery Cart, GruGru, gryphon, gtspeedy814, GumbyS13, gusisboosted, Guu-sama, H.A.R.T B18C1EG6, hack3rx, hatcH22, headup240, HeavensEpitaph, High-Rev-Racing, Hodge, hybrid22l, I hate my honda, ibuki56, icantdrift, Icy13, ihaveagtr, iknowyoulike, indpndntlabl, infamous240sx, inferno s14, isixphill, itsmillertime, iWingless, J0nJ0n, JACK SCHITT, JamesCon, Javi'sSR20DET, jdizzy204, JDMDude, jdmfan13, jdmspecs, JDM_eightSIX, jduke, JeffSteph108, jhyatt3gt, Jimmyg41, JJ1042, joeleo1, JoeyKeel, JohnC, Josephj, jpbpoway, jpost, JRCook320, JRusty15, jr_ss, jsu1012, JT240SXKOUKI, Jtuned_andy, jubee, junn, Ka24Power, kaane, kaidohms, kam9311, kaoliu, karri1, Keefs240sx, kennn, Kenric22, kensrue88, kevinphan, kikcaffine, KiLLeR2001, killer240, Knuckshaft, kongbakpao, Krashsx, krazieninja, kristan.ramnarine, kunt_masha, Kutzo, Laddergoat, largetacticaldrift, lesfriskynipps, lewisfk, LIFEisGood, lilusty, linton, Livid_240sx, Lkngo, LMFC, LOADING..., Loafy777, longbeachstateofmind, lownslow240sx, Lt Shinysides, Luvs2slide, M [ ] T Ll R l< 49, MADE, Mak1452, mark13marcos, MaStA WaKa, Matman03, matthewman09, mdcrose, Melkor, memphiss13, Merlin34, Mike - E, Mikeyvaj, Misawatwotone, mixeds14, MK_951, MorganS13, mosdef, motteramm, mowgli 240sx, Mr. white, MrCleanS14, munkyshet, M_Dubz, Neteru, Newtorwd, nextproject, niecewonje, Ninjataco, nismonismo240sx, nismostate, nismo_drifter, nissanhoe4show, No 240.. No id, Notorious405, nrcooled, oewoko, OFKOUKI, og240drifting, Omar1913sm, OMFGeofffff, omgwtf, one_eighty_180, ONYX S-13, ownz, OZ Designs, P2592b, p3c0r, pacotaco345, PancerzSX, Payableondeath6, peacefrog, pete240, phunc, Plague115, Pman47, PoJaiKai, PoorMans180SX, porschekilla, PosiS14, poweredbysohc, power_shift, project7x, projectslider, project_2fizzle, Project_RaceBreed, projekt_s13, Prove It, Pt22183, pTen, pugsonrugs, PW180SX, quickdiversion, raguilar1287, RalliartRsX, randyjordan, Raptor, ravinaziankid, RB25GUY, Rb26kouki, RcktBny240, Reddrum13, Redstar, RedTopKA-T, Reeseworking, RegularKouki, ReLiC, ReneRos92, retrograde., rhd, RiceBuster, richmoney, RnThor, Rob238449, Robopo900, robvierhout, RocketBUNNY, Roqfan, royalty4675, Rsr240sx, rswails, ruan619, RurouniMidnight, Rushin, Rusolena, ryan15, RZRSHARP_240SX, S T Y L E S, s0fa king, s13 game-changer, s13blood, s13envy, S13fasect, s13jkmover, s13poop, s13Yoon, S14Serge, s14sliding, s14sport, s2k05, s4tween, s7x2, SalvaS13, schnabulator, scotto, ScottyDont, scuba_steve91, SD_Kouki, seducksauce, senger, sentradude, shalezzz, Shawmanz32na, shawn1331, sheepskin, shephurd, SHIFTrl240, Shift_2Drift, Shigun, ShowBoobs, Sidewayzjdm, sileighty..., Sileighty_85, Silvia479whp, silvia910, Silviak_turbo, SilviaSR20DET, silvia_fiend, simmode1, SINISTRUM, skazat, skeeter, skiswickedysr, skyline34, slidewayz240, slidin-s13, Slippin'eight-nine, smartoss, smoketherear, sNdoan, Sneak36, sngx83, snofufu, some-guy23, Songzhan, Sonic Motor, sooorad@aol.com, Spec. R, speedfiend, spiritr34, sporty-240, SpuGen, sr-power, SR20DET-B2200, sr23det, srbenz, sr_silvia_106, st280, Stein180sx, streetprototype, strttnr, Sumslapper, supercompact, supra1rd, Supra_Lover, Surffer227, S_14, ta2maki, tanitpong, tclange@yahoo.com, techdeck261, The Real Keith, The300zx1993, the3SecondJerk, thegr8one013, thewildbills, the_strange, Tignometry, timandytimandy, titopr06, tle.88, TMW, tom_sr20, Tonis56, TooMuchLuv_S13, TougeLabs, TougeSC3, Trap god, tristan582, troyp47000, truckmtrS13, tru_blue123, Tryflinkeith757, tt20985, turbo101, TurboSE, turbronegro, tweezz, TyP, T_wo.and.T_one, UniqueAutoCreations, UnknownGuy, Unrestrained, Vadim's13, vinnyjdm, vnandy2k, wanabgts, wasabiboi, WERDdabuilder, white1996zenki, Wolf45, word sux, WTS3, X9C, xonix_digital, Xtreme Wheel Brokers, Yoci, YOSHIKOUKI, yuvannr, yvang07, z31kirby, z33slammin, zchdrl, zeebrah, ZeNkI SiLvIa, Zenki'89, Zenkistyle, zenki_39, Zent, ZERTA RACING, zooopreme, zspeedrft, zurud, [240sx]
Most users ever online was 4,558, 04-17-2013 at 10:09 PM.