» Zilvia.net | The Original Nissan 240SX (Silvia) and Z (Fairlady) Car Community Forums
The Original Nissan 240SX (Silvia) and Z (Fairlady) Car Community Forums

Here you will find dedicated and knowledgeable Nissan Owners, Member Rides, Photo Galleries, Blogs, Technical Articles, Marketplace, Group Buys, Reviews, Installs, Drifting, and Links.

We are collaborative group dedicated to all S13, S14, S15, Z32, Z33, Z34 chassis sport cars, Nissan's greatest.
» Recent Threads
Title, Username, & Date
Replies
Views
Thinking about buying an...

29

906

The Kouki S14 Thread

24,010

3,067,885

Write up: Fuel Surge...

10

2,987

Fender Pull/Roll Issues...

13

427

Zenki's Unite

40,089

4,039,945

"You're doing it wrong"...

4,697

391,876

Action Only Shots Thread...

2,421

455,739
» Advertise Specials
Our Back to Back Savings Continue with our 2015 Memorial Day Sale!
May 22, 2015 - 6:10 PM - by FRSport.com


From May 22nd- 28th our back to back specials continue. This coming week in honor of Memorial Day
our entire selection of In-Stock items continue to be on sale. Make sure to visit our Featured Section
for highlighted specials and use the filters to the left of the FR Sport Site in order to... [Read More]
0 Replies | 740 Views
Enjuku Racing - Free Shipping on all orders over $100!
May 22, 2015 - 12:37 PM - by Enjuku Racing
Free shipping on orders over $100!


... [Read More]
1 Reply | 281 Views
Extreme dimensions memorial day weekend sale - huge savings!
May 22, 2015 - 11:45 AM - by Extreme Dimensions

EXTREME DIMENSIONS MEMORIAL DAY WEEKEND SALE - HUGE SAVINGS!

This Memorial weekend we will be offering an additional 10% off our already discounted forum member pricing. This price includes all items on our

... [Read More]
1 Reply | 306 Views
@@ Memorial Weekend Discounts 5% OFF Cosmis XT206R XT006R XT005R MR7 MRII S5R @@
May 21, 2015 - 10:23 AM - by Xtreme Wheel Brokers



PM FOR LOWEST PRICING EVER!

Who wants COSMIS WHEELS!!!
Make your ride look AMAZING

... [Read More]
0 Replies | 417 Views
Enjuku Racing - HKS Hi-Power Exhaust $395.00! In Stock
May 21, 2015 - 10:03 AM - by Enjuku Racing
IN STOCK! -
HKS Hi-Power Exhaust - Nissan 240sx 89-98
$395.00



... [Read More]
0 Replies | 415 Views
Nissanparts.cc // 10% OFF Site Wide // Expire 5.23.15
May 20, 2015 - 9:49 AM - by RussellM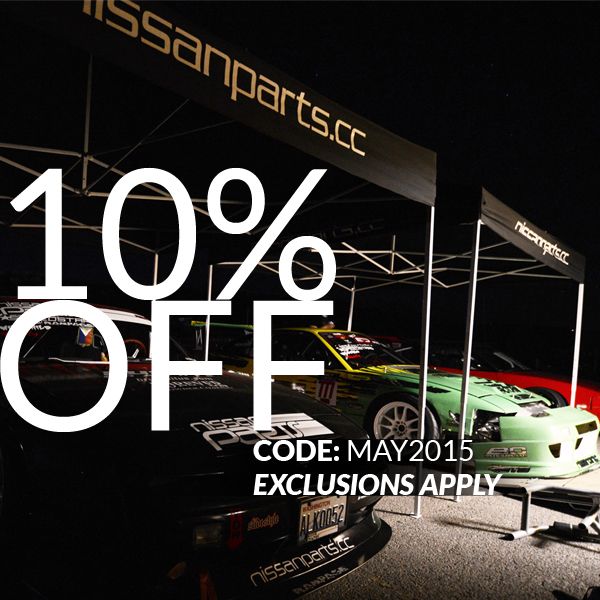 10% OFF COUPON CODE


CODE: MAY2015
EXPIRATION: MAY 23, 2015
EXCLUSIONS: Gauges, Part Kits, Coilovers, T28 Turbos, etc


It's been a while since we sent out a coupon code and we felt like

... [Read More]
0 Replies | 611 Views
OMP Racing items available at EnjukuRacing.com
May 19, 2015 - 12:48 PM - by Enjuku Racing
OMP Racing products available at EnjukuRacing.com
0 Replies | 541 Views
@@@ Ambit Wheels | Tax Season Sale | 17x9 +15 | 18x9.5 | 18x10.5 Concave Wheels
May 18, 2015 - 8:19 PM - by ambitwheels
Ambit Wheels offers high quality wheels in aggressive sizes!

Take advantage of this tax season sale price of:

$550 w/ free shipping on all 18" RT8/RE18/RS18 Wheel
$500 w/ free shipping on all 17" RE02 Wheel

Sizes:
17x9 +15 5x114.3
18x9.5 +15 or +22 5x114.3
18x10.5 +15 or +22 5x114.3

For more pics, visit our facebook and instagram
... [Read More]
3 Replies | 652 Views
One Week Remains in FR Sport's Spring Clearance Sale!
May 15, 2015 - 4:22 PM - by FRSport.com


From May 15th - 21st our amazing clearance sale continues to keep extra money in your pockets
while providing you with excellent performance parts. Make sure to re-visit our "Featured Section"
as we have continuously updated the list of items and will be adding more as the days go on.... [Read More]
0 Replies | 916 Views
Takata Nylon Tow Strap Black/Green IN STOCK!
May 15, 2015 - 12:23 AM - by Enjuku Racing
We have the Takata Racing Green & Black Tow Straps IN STOCK! Just like the one featured on Nate Hamilton's Formula Drift competition car.


BLACK - ... [Read More]
0 Replies | 650 Views
Hawk Pads Best deal online
May 14, 2015 - 5:02 PM - by Juan@Fontananissan
Hey Guys,

we have all kinds of hawk pads in stock available to ship immediately. all hawk pad orders will have free shipping anywhere in the continental usa. we also have special combo deals. our website

www.nissanraceshop.com

is still updating so most of the hawk pads aren't available online yet. please email us your current caliper / rotor combo. (or hawk part numbers ideally)

... [Read More]
0 Replies | 435 Views
Spring Sale ISC N1 Coilovers for Nissan S13/14/15
May 14, 2015 - 8:38 AM - by AJW Performance
Good Morning everyone, we currently have ISC N1s for the Nissan S13/14/15 platform in stock and available!
Special pricing for Zilvia members -->
$984 Shipped USA 48
ISC N1 Coilovers for Nissan S13 AND S14 IN STOCK! S15 is Special Order
... [Read More]
1 Reply | 497 Views
//////S13 & S14 Suspension Components Available!!\\\\\
May 13, 2015 - 6:11 PM - by Rev-Motion


S13 & S14 Suspensions Components Available!!!

If you're looking to get sideways at the track or reach that next level of skill, then you'll need some stronger and higher... [Read More]
0 Replies | 906 Views
K Sport Coilovers FREE SHIPPING!
May 13, 2015 - 5:52 PM - by Juan@Fontananissan
Hey Guys,

the entire month of may we are blowing out K-Sport coilovers out of the water with free shipping within the continental USA. all K-Sport coilover models are on sale & with free shipping it's hard to beat, every model on their catalog as long as it's available we will be giving out deals.

K SPORT

... [Read More]
0 Replies | 687 Views
Kouki 180SX Tail Lights (Type X)
May 13, 2015 - 5:34 PM - by Juan@Fontananissan
Hey Guys,

We have the JDM 180SX Type X Tail lights in stock and ready to ship! all of our tail light kits are brand new OEM JDM Nissan Units, never been mounted, used, or even opened.

to order your tail lights easiest way is to place it on our website following this link.

NISSAN RACE

... [Read More]
0 Replies | 742 Views
BC Racing Coilovers PLUS FREE MUTEKI LUG NUTS!!!!!***********************************
May 13, 2015 - 11:57 AM - by IMPORTIMAGE




CALL 941-257-9618 and mention BILLY to receive special pricing ON ZILVIA!!!!!

FREE LUG NUTS!
... [Read More]
0 Replies | 435 Views
FREE Shipping on AME Wheels!
May 12, 2015 - 9:05 AM - by AJW Performance
1 Reply | 659 Views
Square Wheels in stock at EnjukuRacing.com
May 11, 2015 - 1:51 PM - by Enjuku Racing
The popular 19" G8 SQUARE Wheels are in stock!


Machined Face Silver
Matte Black
Gloss White
Hyper... [Read More]
0 Replies | 535 Views
Black Friday Specials in the Spring?! Check Out Our Site and Discover the Savings.
May 08, 2015 - 6:53 PM - by FRSport.com


Our first ever Spring Clearance is officially happening. Hundreds of great performance parts have
to go. For the next 2 weeks, from May 8th - May 21st, make sure to check out our "FEATURED
SECTION" or click on the ad above for some of the most epic deals we've ever had. If you don't
see the... [Read More]
0 Replies | 967 Views
FD 5% OFF Weekend Sale! EnjukuRacing.com
May 08, 2015 - 2:39 PM - by Enjuku Racing
FD weekend sale starts now! Use coupon code FDATL5 to receive 5% OFF
www.EnjukuRacing.com
0 Replies | 865 Views
» Stats
Members: 167,310
Threads: 565,866
Posts: 5,664,356
Top Poster: Phlip (27,436)

Welcome to our newest member, ovfgovzs
» Online Users: 945
340 members and 605 guests
180sxs13, 1985zcar, 240koukiSX, 240Shwag, 240ss, 240sxdriftin, 24O, 280noilan, 350Steve, 5280VertDET, 818 ZENKI, 89_240jdm, 90s13coupe, 91cupcake240, 92sr, Aaron73, abunai the drifter, acslater9, ADIDASilvias, AJW Performance, Alan240sx, amgsmg, anti tyler, Apex Eight, asiangento, AtReYu72, automagiks, awesomeHB240sx, Awwhite, Axel18, azncorruptedo17, A_artist114, b00std240sx30, banshee_rider909, bdubnyc, bfarroyo, bigs, blackoutb15, Bleakley, bllabong89, bmaddock, boost infested, Boss s14, bot, bowser1228, BruhitsJoshZenki, bskiles92, C-unit, CamberWear, cambotowle, ccfame, cerealwars, Cheezit033094, ChopSuey89, Cisco357, cj0, Cjkouki2010, CookiesNCream, CrimsonRockett, Croustibat, customs, cynxe, D-Clem, D-Rock920, Daily_Drifter, DanielZ, Darkcr3w, darkiee, Davidna2fi, da_crew10, DinoSR20, Dirk Jan, dirtiee, djbrett28, djevo, dmragecm, docboost, dorikin717, dorkidori_s13, doylejaaron, dr1ft32, dreamin240sx, DRFT180, DRIFT-ELITE, driftage240, Drift_86, dropedS13, drumer_boy456, DustinSixOh9, Dylan 88, e1_griego, E2EKIELR34, e7eRnaL*nInJa, EDacIouSX, eddie89s13, ep3scott, erik05v, erm9528, eye-5, FaLKoN240, famous_atticus, Fankenstiens240, fastgonads, feito, Flicktitty, fullthrottle, G35nubluber, GavGav, geeitup, Geezy, GIMJ, GotDecaf, greddy2die, Halucha, hatchtastic, HGs14, Hiighboost2, hitt1, Hlsilver, hobbs, hockeyplaye8511, HORShi, hpipro4, hunt, I hate my honda, ignited, ihaveagtr, ikennrockdis, Illestdrift, Ille_Jandro, imnatelol, InsTanCeZ, InstantBoost, iRONDONkey, isixphill, itmightbedon, iWingless, jakhab, Jandro20, japslapsilvia, jayrawr, jaysgottaredtop, Jayz Auto Garage, jazy_fresh, jcyr, Jdmfreak078, JDMJEM, Jdmwhip, jduke, jeffwiggins, Jnsnm, joefresh, joelmerritt, JohnC, johnnypvrk, jrocslider, JSimpson, jsu1012, Juusan, Jybfan04, Ka24Power, kaane, Karlhammer, kasted, KiLLeR2001, KJR50, KojiKP, Konabobo77, KoukiMonsta, koukishelby, kouki_98, kraetofuman, krewskatee, Kriskouki, ksuberk54, Kylepaschke, Leja145, LIs300, LMFC, losmate, lownslow240sx, lsvtec, lucas240sx, Lumberjackchris, LuxExperience, M [ ] T Ll R l< 49, Mack0917, MADE, ManSalad, marat, MarkieMark, marky, marshallpre1, Martino, marvlrose, MaStA WaKa, mattnoble93, maximus nismo, Mazworx, mcgraneimports, Mcpot132, mewantkouki, mike fonseca, MikeT, mitcheyismyname, Motley, moto21, Mr. white, Mr.Folgers, MrMarinakos, mtx450, Musky014, Nachtmensch, NALDOS14, Neel281, nextproject, nickkacala18, NismoClassic, NISR20MO, Nissansota240, NJs13_1993, nono917, ntrirish7, oewoko, offthewall, oni jake, Oo GrEg, Oskirocket, ovfgovzs, pacotaco345, pancakes562, Paradoxx123, perumerican, PhatCar, PIEMAN909, pin0y220, PLAYERO_LOKO, ProjectPanda13, psherg, pssht, Ptrain, Purestock240, R32CoupeS13, RalliartRsX, RaNMaN, ravinaziankid, Rb26kouki, Reece, Reeseworking, reflexdb, Reland360, RHD180sxboii, robinsone, roman350, RossCallaghan, Rushin, Rusolena, RWD_FTW, Ryan.maccie, s13 drifta, S13alldayyo, S13Yosh, s14boy, s14skyvia, s14_monster, Salvarath, Scari Harri, Schmitty_FC, schnabulator, scolarson, scottie, scottleone, Shift_grip, sickmade, SidewayzAsFck, sil14zenki, Sileighty_85, silvia13t14, Silvia479whp, skurger, Skylinechaos, Sleeper122, Sleepy Wagon., slider2828, slidewayz240, slower than you, SOAZ, some-guy23, Spec. R, speedfiend, SpuGen, sr20detgt35r, sr23det, SR_Elliott24, sskracing, StatticMyke, staykasaurus, stevenrapids, Stoil, SubIElove, surly, sweeper240, Swerve240, sytfu_S14, TeamFRAT, teckid02, Thaiboy, ThanatosG, theultimatehero, tonez, Tonis56, tt20985, turbo2nr, turboeic, turbotank, tweezz, Twitchee_, tylkadc5, Unrestrained, Vandrel, vanimal, VAs13, Vest, vinnyjdm, ViorelP, w0nderbr3ad, wanabgts, wussmonster, xiaphin, xitsalgin, xlamontx, yiipi, Young Sileighty Kev, yuvannr, Z3R0D34TH, Zenkipowered, ZERTA RACING, zNismoz, zpaaji, [240sx]
Most users ever online was 5,375, 05-21-2015 at 06:47 PM.