» Zilvia.net | The Original Nissan 240SX (Silvia) and Z (Fairlady) Car Community Forums
The Original Nissan 240SX (Silvia) and Z (Fairlady) Car Community Forums

Here you will find dedicated and knowledgeable Nissan Owners, Member Rides, Photo Galleries, Blogs, Technical Articles, Marketplace, Group Buys, Reviews, Installs, Drifting, and Links.

We are collaborative group dedicated to all S13, S14, S15, Z32, Z33, Z34 chassis sport cars, Nissan's greatest.
» Advertise Specials
CYBER MONDAY SALE!!! Last day to buy!!
Nov 30, 2015 - 2:24 PM - by Rev-Motion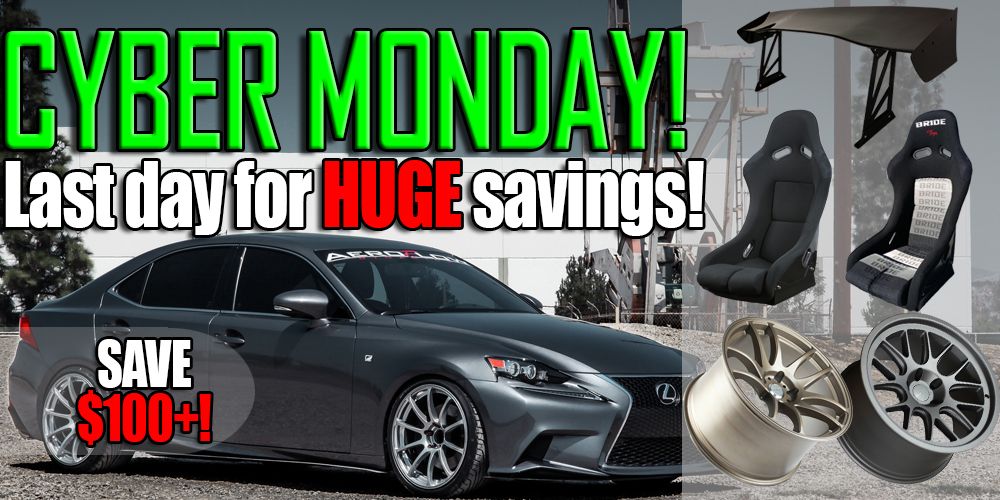 CYBER MONDAY SALE GOING ON NOW!! LAST DAY TO SAVE!!

ENTER HERE: http://www.rev-motion.com/collections/on-sale-items
... [Read More]
0 Replies | 30 Views
Cyber Monday 1 Day Sale!
Nov 30, 2015 - 1:58 PM - by FRSport.com
Missed out on Black Friday? Check out our Cyber Monday deals! They're just as good! Ends at 11:59 PM PST on 11/30/15


0 Replies | 32 Views
Cyber Monday at Fortune Auto!!!
Nov 30, 2015 - 1:12 PM - by Nick@Fortune-Auto
If you would like to add upgrades such as swift springs or radial bearings,
please send us a follow up email once you have placed your order.
... [Read More]
1 Reply | 41 Views
AJW Performance Cyber Monday
Nov 30, 2015 - 10:47 AM - by AJW Performance
We rolled out our Cyber Monday sales for you guys! Let us know if you want something you dont see and we can get prices your way!






... [Read More]
0 Replies | 46 Views
DorkiDori 2015 Holiday Sale! DISCOUNTS ON ALL SHIRTS + ALL AERO!
Nov 28, 2015 - 6:37 PM - by dorkidori_s13
Holiday pricing is now on! Dont miss out!

ORDER VIA WWW.DORKIDORI.COM
0 Replies | 78 Views
5%-50% OFF Black Friday Sale
Nov 28, 2015 - 11:10 AM - by wiring specialties
If you have been thinking about buying a new harness, then now is the time. Almost our entire product line is on sale - anywhere between 5% - 50% off! Visit this page to find out how much you can save: http://www.wiringspecialties.com/black-friday-sales



... [Read More]
0 Replies | 113 Views
>>>REV-MOTION<<< BLACK FRIDAY Wheel Deals!
Nov 27, 2015 - 8:52 PM - by Rev-Motion


BIG WHEEL SALE!! SAVINGS ON MOST WHEELS!!

... [Read More]
0 Replies | 240 Views
BLACK FRIDAY DEALS!! Carbon Fiber GT Wing!!
Nov 27, 2015 - 7:50 PM - by Rev-Motion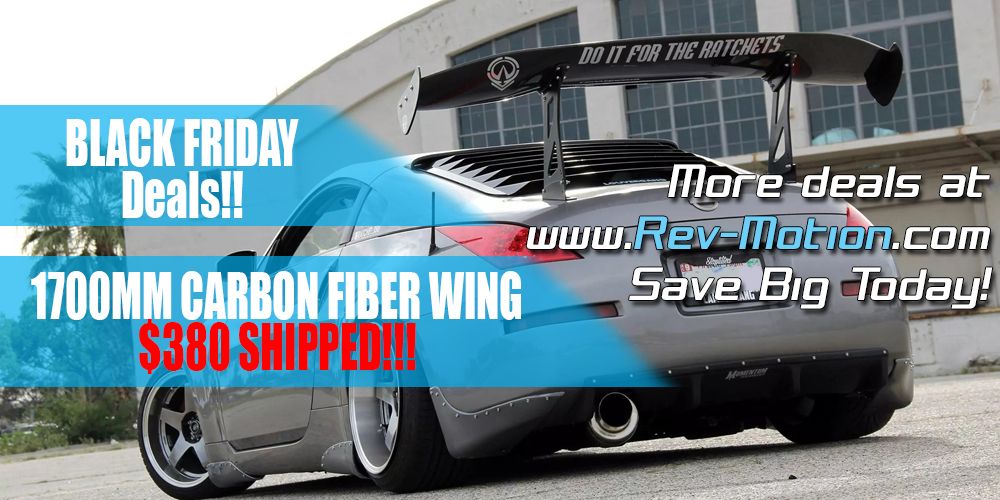 ... [Read More]
0 Replies | 510 Views
Up To 80% off Black Friday Sale! Til Sunday!
Nov 27, 2015 - 2:51 PM - by FRSport.com
While supplies lasts guys! Check out our black Friday sale! Coupons Automatically Applied!
0 Replies | 171 Views
AJW Performance Black Friday sale!
Nov 26, 2015 - 10:16 PM - by AJW Performance
Happy Thanksgiving! Black Friday is here and so are the deals!




Want something special? Shoot us a message for a custom quote! Or email us at

... [Read More]
1 Reply | 188 Views
50% OFF Black Friday Sale
Nov 26, 2015 - 12:11 PM - by SignSomething


This is the biggest sale we have ever done. Take advantage now through Sunday!






... [Read More]
3 Replies | 321 Views
Enjuku Racing - Store Wide Sale
Nov 26, 2015 - 10:34 AM - by Enjuku Racing


+

Spend over $2000 and also get $100 in store credit for future use!!


... [Read More]
0 Replies | 135 Views
Enjuku Racing - Black Friday Section goes live tonight @ 11:59pm
Nov 26, 2015 - 10:33 AM - by Enjuku Racing
0 Replies | 150 Views
P2M New Item Release : Clear CAS Cover for Nissan SR20DET
Nov 26, 2015 - 2:58 AM - by phase2
Hi Zilvians

We got the chance to bring back the clear acrylic see through CAS cover once again. This item is so useful for people that knows what it's for, there's no need to ever take the stock plastic cover off when trying to re-install the CAS back into the cylinder head to align the timing marks.


... [Read More]
0 Replies | 173 Views
Thanksgiving Sale!
Nov 25, 2015 - 7:45 PM - by FRSport.com
Can't Wait for Black Friday? Check out our Thanksgiving Sale Now!
0 Replies | 161 Views
Enjuku Racing - ***BLACK FRIDAY SALE IS HERE!***
Nov 25, 2015 - 2:44 PM - by Enjuku Racing
Thanksgiving / Black Friday
Starting this Thanksgiving 11/26/2015 start your engines!
10% off Storewide* Coupon code – Thanks10


... [Read More]
0 Replies | 192 Views
P2M Black Friday Sale! All Products!
Nov 25, 2015 - 2:51 AM - by phase2


Please visit our website for product information. This is the time to get parts at discounted pricing for your Holiday season.

Discount will end promptly by the deadline listed.
2 Replies | 368 Views
Extreme dimensions black friday sale - free shipping - extra discounts
Nov 24, 2015 - 6:41 PM - by Extreme Dimensions


AERO FUNCTION - DURAFLEX - CARBON CREATIONS - COUTURE

Too Tall Paul here, have you been holding back on getting your new aero styling because shipping is too expensive?? Now is the time, FREE SHIPPING on orders over $500!! FREE SHIPPING & AN ADDITIONAL 10%... [Read More]
2 Replies | 278 Views
Enjuku Racing - BridgeMoto X Enjuku Racing SFI Racing Gloves
Nov 24, 2015 - 4:38 PM - by Enjuku Racing
[Read More]
0 Replies | 205 Views
NEW PRODUCT RELEASE: Prime Suspension by Fortune Auto
Nov 24, 2015 - 11:41 AM - by Nick@Fortune-Auto
Introducing the all new Prime Suspension Coilover!
Prime Suspension offers one of the best suspension solutions on the market for those who demand excellent ride quality without sacrificing spirited performance. Prime Suspension dampers are being introduced with the intention of being capable, entry-level dampers to fit a broad spectrum of budgets and uses. The applications utilize an array of high quality components and trickle down technology from Prime Suspension's parent company,... [Read More]
9 Replies | 362 Views
» Stats
Members: 173,733
Threads: 576,919
Posts: 5,755,812
Top Poster: Phlip (27,447)

Welcome to our newest member, UsefulSkills
» Online Users: 954
293 members and 661 guests
10psitx, 11wrxman, 180sxdrifter, 1993fdrx7, 240sohc, 240sxual, 2muchboost, 600supersport, 760GripReaper, 864drift, 89_240jdm, 92R32GTST, 92srsileighty, 95_S14, 96_Zenki, absner, adicarlo, Alan_405, andisan, Apex Eight, arecinos, Arrowking, Atill93, Austin.Saal, Avyar, awesomeHB240sx, badP4nda, beems240sx, ben33327, Bernie (NoVA), bestcoast, bfarroyo, bjohnson-ap1, blasian, blksylv, bluepiggy89, bmhossain, bobob729, BomexS14, boost addict, boostcreep5150, boostedsohcs13, bruins1, BuildingDreams, Calebq69, Charlie240sxt, CHATAP, CleanAndLegit, collegekid, CompleteXen, CoreyS13, CQ2996, crm1, cured13, curo72, Cws13silvia, d.eskayes, Dalton, danshaz, DBurnsz2, Dek-Thai, deolio, DespiseYou, dev71893, devilmk4, Dirk Jan, dizzariot, DJPimpFlex, Dolph_KYAS13, dorkjoey240, drewr4411, drftx, driftminds13, Drift_86, DS DockSide55, e1_griego, E2EKIELR34, eclipse stig, ehp, EnergeticPhenom, Enjuku Racing, ericseven, err, Evan_, Extreme Dimensions, eye-5, Firewataboy, frankyboy49, Fuego, FunnyVictor86, future, GabeS14, gap450r, gdixon94, giant killer, Gingersmurf, Gio RMS13, gnellyable, Goldfish240, Goofs, greddy2die, gumaheru, h3rb, Habibi240, hanzbrady, Hatemy7, havenaz, heavenboundkevin, hellaslows13, Heywood Jablomie, hobbs, Hoffman5982, homegrowngarage, hybrid_eg, ILoveJDM, Ilya, irritatedmax, Jamezilla123, japslapsilvia, jaymp, jbt_92, jdmstyl, jdm_dsao, jdm_kouki, jduke, jerry v, Jfitzg38, Jibbberish, JohnC, Jonathan Rivera, Jordan_Inc, joshy240sxxx, jr_ss, jsxr14s, Juucso, jvtec95, Jybfan04, K0uki_M0nster, KA-T Kouki, ka-titties, KA24DESOneThree, ka24ever, kashira kureijii, kevinphan, kevo1ner, kingmulky, ki_JDM_ds, KJR50, KurumaBaka, Lees_Garage, lhdsileighty, lok, luksicman1, lumbees14, Luvs2slide, M [ ] T Ll R l< 49, marvlrose, Matej, mau5trap, MaxTheRabbit, MCD, mdelro1, megab0i, MelodicSilence, mgm, Midori, mikefc, Milspec180, moebiius, Monkeynutz23, mot, mpayneman, mr2ouge, MrMarinakos, Munki, MurkyRiversS13, Nick@Fortune-Auto, Nickson, Ninjataco, NismoDriverS13, NISMOFANATIC748, nismonismo240sx, nopistons93, ntrirish7, NYS13SLIDER, outlaw0209, Overnutter, panda_240, Paradoxx123, paulseatingabook, petro2342, phunc, PMG 705, Primo's Silvia, punxva, R2RO, R3b, rains14, RalliartRsX, Rampage, rb26man, red92ka, redmann813, Reece, ricardo.benin, RitzY33, rvns14, Ryan.maccie, s13driftnut, s13silvia808, s1421, s14hunter, S14newguy, Sarjh, SaUcEy, Sc0oByDo0RaCeR, Schmitty_FC, ScrapnSidwayz, serah31500, shanez, short_shift04, Sidewayz_610, SignSomething, sil80hatch, Sileighty_85, Silvia G, SilviaDriftVert, silviaks2nr, Sittingslideways, skiswickedysr, slamburger, Sleepy_Steve, Slip&Sliden 240, slow92, slower than you, Smurf_240SX, SodaCool, Sonic Motor, Soto9463, specie, speedfiend, spk, spooled240, stack-kat, Stein180sx, stratxc, superadvan_240, supra_speed, surly, taeisbeast, teamkunimitsu, tein, teqnick, tgy, TH90D, thegr8one013, TheLesnOne, theryanlopez, titopr06, tkca18det, Tkoppab, TMW, tonez, Toomuchboost12, tt660, unreal-, urk, Variettas15, VenomKillz, vJilly, Volcomstone_SR20det, VROOOM, WAH_KA24DET, Wangan kid, wasabiboi, white-s13coupe, windsorvr, wise3, Wookie384, wurley, xdrex, xinfinitix240sx, XMcEvilson, Y0SH, YOSHIKOUKI, Z3R0D34TH, zenki_chris01, Zero_Cool, ZERTA RACING, zurud
Most users ever online was 5,375, 05-21-2015 at 07:47 PM.