» Zilvia.net | The Original Nissan 240SX (Silvia) and Z (Fairlady) Car Community Forums
The Original Nissan 240SX (Silvia) and Z (Fairlady) Car Community Forums

Here you will find dedicated and knowledgeable Nissan Owners, Member Rides, Photo Galleries, Blogs, Technical Articles, Marketplace, Group Buys, Reviews, Installs, Drifting, and Links.

We are collaborative group dedicated to all S13, S14, S15, Z32, Z33, Z34 chassis sport cars, Nissan's greatest.
» Advertise Specials
DorkiDori 2015 Black Friday Sale! HUGE DISCOUNTS ON ALL SHIRTS + AERO!
Nov 27, 2015 - 5:24 PM - by dorkidori_s13
SALE STILL RUNNING STRONG! DONT MISS OUT!
YES ALL FRP AERO AND AERO BUMPERS ARE ON SALE FOR A KILLER PRICE!

ORDER VIA WWW.DORKIDORI.COM
0 Replies | 12 Views
Up To 80% off Black Friday Sale! Til Sunday!
Nov 27, 2015 - 2:51 PM - by FRSport.com
While supplies lasts guys! Check out our black Friday sale! Coupons Automatically Applied!
0 Replies | 49 Views
>>>rev-motion<<< black friday deals!!
Nov 27, 2015 - 2:19 PM - by Rev-Motion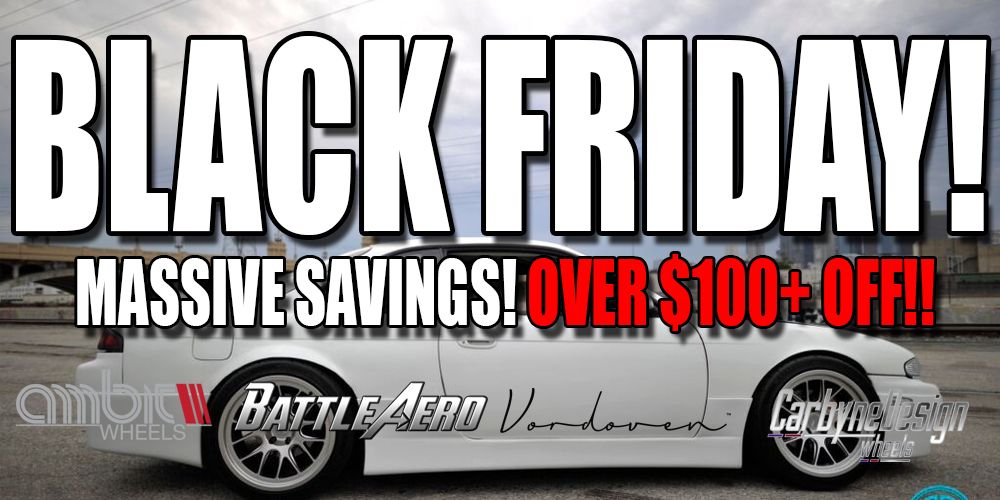 BLACK FRIDAY SALE GOING ON NOW!! SAVE BIG!

ENTER HERE: ... [Read More]
0 Replies | 61 Views
AJW Performance Black Friday sale!
Nov 26, 2015 - 10:16 PM - by AJW Performance
Happy Thanksgiving! Black Friday is here and so are the deals!




Want something special? Shoot us a message for a custom quote! Or email us at

... [Read More]
0 Replies | 132 Views
50% OFF Black Friday Sale
Nov 26, 2015 - 12:11 PM - by SignSomething


This is the biggest sale we have ever done. Take advantage now through Sunday!






... [Read More]
1 Reply | 202 Views
Enjuku Racing - Store Wide Sale
Nov 26, 2015 - 10:34 AM - by Enjuku Racing


+

Spend over $2000 and also get $100 in store credit for future use!!


... [Read More]
0 Replies | 101 Views
Enjuku Racing - Black Friday Section goes live tonight @ 11:59pm
Nov 26, 2015 - 10:33 AM - by Enjuku Racing
0 Replies | 108 Views
P2M New Item Release : Clear CAS Cover for Nissan SR20DET
Nov 26, 2015 - 2:58 AM - by phase2
Hi Zilvians

We got the chance to bring back the clear acrylic see through CAS cover once again. This item is so useful for people that knows what it's for, there's no need to ever take the stock plastic cover off when trying to re-install the CAS back into the cylinder head to align the timing marks.


... [Read More]
0 Replies | 117 Views
Thanksgiving Sale!
Nov 25, 2015 - 7:45 PM - by FRSport.com
Can't Wait for Black Friday? Check out our Thanksgiving Sale Now!
0 Replies | 135 Views
Enjuku Racing - ***BLACK FRIDAY SALE IS HERE!***
Nov 25, 2015 - 2:44 PM - by Enjuku Racing
Thanksgiving / Black Friday
Starting this Thanksgiving 11/26/2015 start your engines!
10% off Storewide* Coupon code – Thanks10


... [Read More]
0 Replies | 170 Views
P2M Black Friday Sale! All Products!
Nov 25, 2015 - 2:51 AM - by phase2


Please visit our website for product information. This is the time to get parts at discounted pricing for your Holiday season.

Discount will end promptly by the deadline listed.
2 Replies | 321 Views
Extreme dimensions black friday sale - free shipping - extra discounts
Nov 24, 2015 - 6:41 PM - by Extreme Dimensions


AERO FUNCTION - DURAFLEX - CARBON CREATIONS - COUTURE

Too Tall Paul here, have you been holding back on getting your new aero styling because shipping is too expensive?? Now is the time, FREE SHIPPING on orders over $500!! FREE SHIPPING & AN ADDITIONAL 10%... [Read More]
1 Reply | 233 Views
Enjuku Racing - BridgeMoto X Enjuku Racing SFI Racing Gloves
Nov 24, 2015 - 4:38 PM - by Enjuku Racing
[Read More]
0 Replies | 171 Views
NEW PRODUCT RELEASE: Prime Suspension by Fortune Auto
Nov 24, 2015 - 11:41 AM - by Nick@Fortune-Auto
Introducing the all new Prime Suspension Coilover!
Prime Suspension offers one of the best suspension solutions on the market for those who demand excellent ride quality without sacrificing spirited performance. Prime Suspension dampers are being introduced with the intention of being capable, entry-level dampers to fit a broad spectrum of budgets and uses. The applications utilize an array of high quality components and trickle down technology from Prime Suspension's parent company,... [Read More]
3 Replies | 253 Views
√ [9K RACING]▬▬ DEAL OF A LIFETIME ▬▬ Black Friday Deals
Nov 24, 2015 - 5:45 AM - by mogli9000
Did you guys miss us? While we had our vacation from Zilvia, the 9K shop has jumped into the epsilon of becoming one of the biggest shops in Southern California.
... [Read More]
5 Replies | 415 Views
Threepiece.us Black Friday Sale - Early Access
Nov 24, 2015 - 1:44 AM - by threepiece.us




Threepiece.us is launching our Black Friday sale a few days early only for Zilvia members!

Use code ZILVIABLACKFRIDAY on

www.threepiece.us

for 15% off your wheels. Then email us

... [Read More]
8 Replies | 351 Views
New to Zilvia Sale
Nov 23, 2015 - 5:06 PM - by SignSomething
As some of you may have already noticed we are a new advertiser here on Zilvia. We are still working on getting all of our ad banners up but in the mean time I figured we could start off with a little intro sale. So just for you guys Im offering 20% off your entire purchase this week only.


... [Read More]
2 Replies | 255 Views
Enjuku Racing - Derale 5inch Puller Fan 315cfm
Nov 23, 2015 - 4:20 PM - by Enjuku Racing
[Read More]
0 Replies | 133 Views
JDM Bumper Madness! 180SX Kouki // S14 Kouki // S15 Silvia // NissanParts
Nov 23, 2015 - 1:50 PM - by RussellM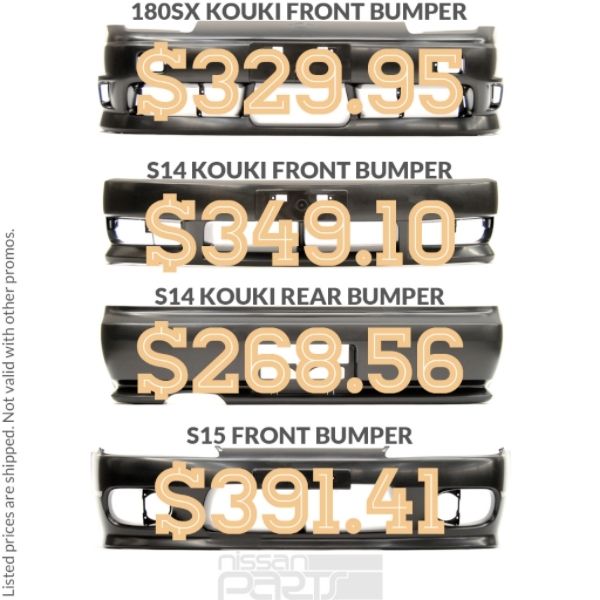 WHOA! To be honest with you I had to go back through my pricing and double check these. I thought for sure I had goofed up. These are the lowest prices we have ever offered on OEM JDM Bumpers and we have tons in stock. We posted this special on Friday to our Facebook and Instagram and half our stock is already gone. So, if

... [Read More]
0 Replies | 259 Views
Fortune Auto Black Friday Sale
Nov 23, 2015 - 1:41 PM - by Nick@Fortune-Auto
ANNUAL SCRATCH N DENT SALE ONLY AVAILABLE AT
http://www.fortune-auto.com/blackfriday2015.htm
... [Read More]
1 Reply | 226 Views
» Stats
Members: 173,583
Threads: 577,010
Posts: 5,755,020
Top Poster: Phlip (27,447)

Welcome to our newest member, Tendrilama
» Online Users: 844
220 members and 624 guests
05subysti, 11wrxman, 1Badhatch, 208s14.5, 2JZR32, 33jrod33, 5280VertDET, 760GripReaper, 864drift, 891via, 89_240jdm, 92srsileighty, 93rbs13, abaron13, abeauchamp, Agamemnon, Agent S14, alex7, andrewnol, ANDY black s13, Asante, ashero2, Aspire818, Austin.Saal, b18cek, BBurr20, bfarroyo, bigs, bjohnson-ap1, bk12kps, Bleakley, bmxer882x, bobthebuilder, bornslippy73, brownsnow2, buddhamonk, Bugeye, Bullitt_180sx, bushybeardedtaco, carmaniac1993, christianos13, Cisco357, CleanAndLegit, cloudstruck, Clutch-Kicks, CostFree, coupekidz13, craysgrandpa, Crazyced, CrazyIvan, CrimsonRockett, crm1, daienacruz, Dcrprez, DeathMetal, Def, DEMo, deolio, Dirk Jan, Dolph_KYAS13, DongleMcSpoogleheim, dorkidori_s13, dorkjoey240, drag-sr20, drtyhatch, DS DockSide55, DT_VH45_S14, DustinSixOh9, e1_griego, ehhhregartless, elixirvtec, emmlucann, EmpyreS13, EnergeticPhenom, esad919, EVL33R, eye-5, feito, Finelinetuning, frankyboy49, freepunk, Fuego, g14novak, gbaby2089, gdixon94, gerawrd0, GORDO-S14, GruGru, HighwaystarJC, Hoffman5982, iJDM, ijkdhjc, iLagX, itzthatsway, jdm_kouki, Jfitzg38, jhony, JJ1042, Jordan.R, jose, JrDarknes, Jskerritt, jsxr14s, justcallmecuz, Juucso, jvtec95, Jybfan04, KA-T Kouki, KA240SX808, Kaifd3s, KAT-PWR, kattwong, Kayle850, Kindaflush, ki_JDM_ds, konrad13jz, koukikat180sx, koukimonster97, kouktexas, Krazykouki, ksneww, Kuma, kurt., lalo167, lethanh93, LMFC, Longhairflexhard, Loomis112, lost240soul, lucid2012, Lunghz, mando240, mcgraneimports, mewantkouki, mihirdharkar, MikeT, Milspec180, Mofuhcka, mr.dat1, mr2turbo122, mrwhite1987, nassin31spr, nismoskyline, Nissan_crazy, Noodleboii808, oewoko, OMFGeofffff, panda305, pewpew1, PhantasmS14, PHeaL, philipk, phunc, piein3ar, pinkyrang, Plague115, pornosquadz, ProjectPanda13, punn303, qoOp, Qzinq, r240sxse, RalliartRsX, Razi, red92ka, retrograde., RobbyMcDonald, rock_7, ronny.jpn, rudysan, Rushin, Ryan.maccie, Ryanwsays, s13lilboi, s14jesse, Sam s13, schnabulator, Sean2ja70, sergeantbadaz, SexOnWax, Sford, short_shift04, shotc4ller, sil80hatch, Sincitycobra, Slip&Sliden 240, slow92, slower than you, slow_sr20, snake_s13, Solo70510, Sonic Motor, speedfiend, spk, spycake, stack-kat, Steiner69er, supradeluxe, Tendrilama, terolla, the shocker, TheKookGill, timohtee, TOVI, Trill_, Trinidrift3, turboshoebox, TwoForDeh, Twosteptj, udon!, UGLYLOWLIFE, urk, w0nderbr3ad, WAH_KA24DET, xdrex, Z32TwinTurbo, zachintheb0x, ZaK687, Zenki426, Zero_Cool
Most users ever online was 5,375, 05-21-2015 at 07:47 PM.